Part 1 of 5
Medical care not available. What to do?
You have decided to load the family up in the car and take off deep into the mountains to your friends off grid cabin to get away and regroup from this crazy world. You planned for a full week of fishing, hiking, reading, and eating too much. Your fishing pole and tackle box are tucked safely in the trunk, ready to use as soon as you get to your mountain destination. The car is jam packed with food, water, camping chairs, sleeping bags, camp stove, first aid gear and all the basic amenities to make this a fun and restful trip for all.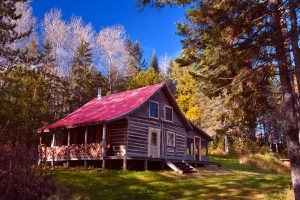 The 5-hour trip was uneventful. You stopped at the diner at the base of the mountain for a quick bite of lunch before heading up the hill. The fragrant scent of pine trees, cool fresh air adds to the excitement and anticipation of the well-deserved and needed getaway. Snow was still clinging to various knolls and shaded valleys; winter was not giving in so easy. Overall, the clear skies dotted with fluffy white clouds and plenty of sunshine promised this was going to be a great week.
After several wrong turns (GPS turned out to be unreliable in the mountains) you finally pull out your friends' directions you had downloaded from the internet and a paper map. You arrive at your destination well before sunset, unpack and head down to the small pond at the bottom of the property. You aren't alone, the dog and your daughter join you. The pond isn't too far from the cabin. You can see it from your fishing hole. You hear a pounding of feet behind you coming from the cabin. Before you know it your daughter and dog jump off the dock and into to the water with a resounding splash. "I'm trying to fish,' you yell, annoyed. "Why don't you swim on the other side?" Your daughter and dog take off across the pond, racing each other to the other edge of the pond. The water is crystal clear and calm. Once things had settled down and the water was calm you put a squirmy worm on your hook, attach a bobber and weight and cast your line. You settle back and start to relax. This was a good decision "you muse, no tv, no internet, only our family and nature." In the distance you can see your daughter and dog climbing out of the pond and racing back to the cabin. A few moments later you see your bobber go under. And again, it submerges. You wait patiently while your fish takes the bait, swallowing the hook and worm. Reeling in your catch you see it is a nice size rainbow trout. Holding it firmly with one hand, you use the pliers to extract the hook. "He really swallowed that worm" you noticed. You run the stringer through the gills and mouth and toss it in the water anchoring it to the side of the bank to keep it fresh. As you put another worm on your hook you notice you had scraped your thumb and a line of blood was dripping from the tip. The hook had cut a fine line in your thumb. You hadn't noticed with all the excitement. Wiping the blood off on a rag, you cast your line in. After an hour of fishing, you bring in 3 more good sized trout, enough to feed the family. Satisfied with your labors you clean your fish and bring them back to the cabin. Your evening was filled with board games, by a crackling woodstove and a large mug of steaming cocoa. A feeling of contentedness swept over you as you fell into a blissful sleep.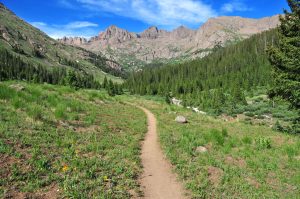 Arising the next morning you collect kindling and start the woodstove. The cabin heats up quickly, given the late summer season. Your thumb is feeling achy, and a bit warm. You brush off the pain and cover it with a bandage. You review today's itinerary. The cabin sits on a 35-mile trail which is in the national forest. According to the map and guides the trails are clearly marked and rated as easy to moderate. Given his children's ages (daughter 11 and sons, 14 and 16) a 6-mile loop hike would be a good distance to hike.
Armed with binoculars, cellphones (for picture taking) hats, maps, snacks, water, and sturdy shoes you and your tribe take off for the 6-mile loop. Your thumb is still achy and is throbbing and getting red and swollen. Not wanting to interrupt this special family outing you ignore the signs of infection. The hike was a success. You pride yourself on remembering the binoculars, your son was able to spot a bald eagle sitting high above on its perch. The hats also came in handy, as much of the hike was in the midday sun.
Arriving back at the cabin, you can't ignore your very sore thumb. You soaked it in Epsom salts, but the fiery red thumb was getting more swollen and purulent drainage from the wound started appearing. Suspecting it may be infected you retrieve your first aid kit, which includes your Jase Case You feel fortunate you had thought of obtaining a Jase case for each member of the family, which you keep with your first aid kit. Suspecting an infected thumb, you locate the ordering physicians' number and call. You describe the injury sustained to your thumb and the symptoms that led you to call.
Given your physicians knowledge of your health history and allergies he advises you start the doxycycline included in your Jase Case. He further advises you review the precautions (can cause sun sensitivity, etc.) and how to take your medication. He also encourages you to call if after 2 days your thumb isn't doing much better after starting the antibiotic, or if you notice a worsening of symptoms (fever, sweats, worsening drainage, red lines from wound traveling up arm, etc.)
You thank him, relieved you avoided interrupting your family's vacation with a trip to the local walk-in clinic.