We Made Getting Access to Lifesaving Medications Easy
Get your personal supply before you need it.
Outdoor Adventure | Travel | Pandemics | Natural Disaster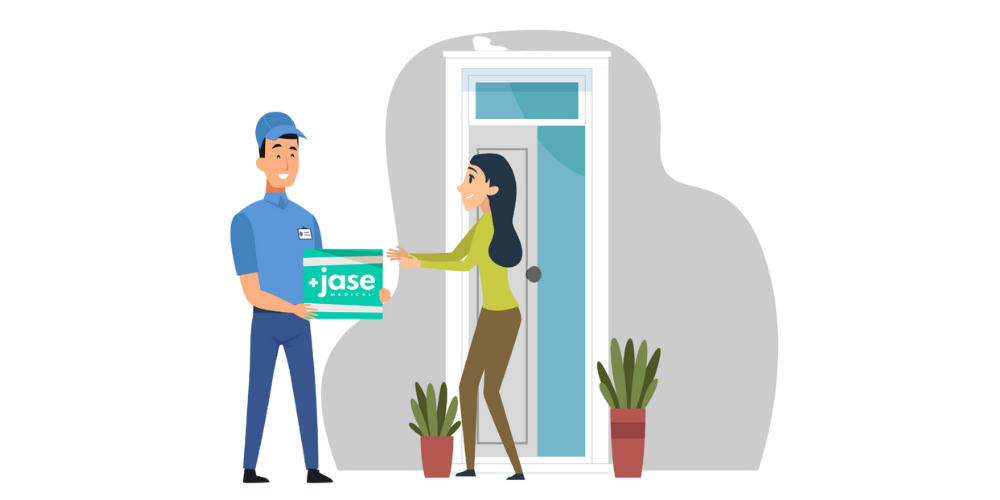 1. Online Visit
Fill out our simple online form for an evaluation from a board-certified physician.
2. Delivery
Your medication will be sent directly to your home from our pharmacy network.
3. Ongoing Care
Send your physician a message for answers to any treatment related questions.
"It was such a pleasure to work with a company that did everything right! From the ease of filling out the online information form, to the speed that form was processed, and then the quickest delivery. It could not have gone any smoother. The Jase Case is a much needed and welcome addition to my emergency medical supplies. Thank you, Jase!" – Roxana
Straightforward Pricing, Always
Your consultation for an emergency supply of antibiotics with a board-certified physician is included. If the physician determines that a prescription for antibiotics is appropriate and safe you will be shipped an antibiotic bundle by one of our partner pharmacies.
The emergency antibiotic supply bundle is curated by a team of physicians and clinical pharmacists. The challenge lies in providing as much coverage for various infections as possible while also considering safety and efficacy. The antibiotics included in your bundle meet those requirements. We have negotiated special pricing with our partner pharmacies and pass these savings on to you.
Pricing:
For US patients: $269.95 USD*
For Canadian patients: $349.95 USD*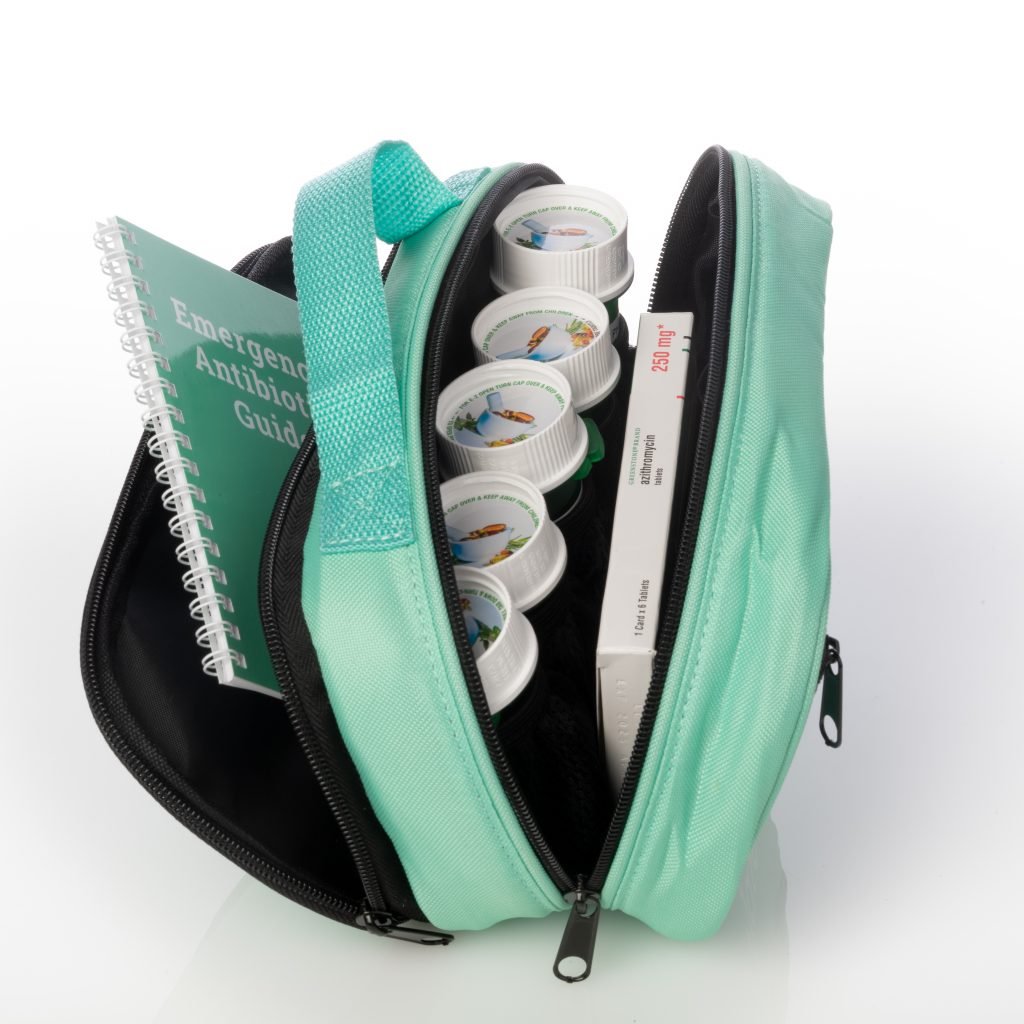 Emergency Antibiotic Kit includes:
Unlimited physician follow-up for any questions relating to the use of any medication prescribed
Emergency Antibiotic Guide written by board-certified physicians as a companion to the use of your prescribed antibiotics
Amoxicillin-clavulanate 875 mg tablets (28 tablets)
Azithromycin 250 mg tablets (6 tablets)
Ciprofloxacin 500 mg tablets (28 tablets)
Doxycycline 100 mg capsules (120 capsules)
Metronidazole 500 mg tablets (30 tablets)
Each medical bundle is intended as an emergency supply for ONE ADULT.
* Our antibiotic kits are priced to reflect local costs of medications, shipping, fees and materials.
** In the case of allergies the listed medications may be substituted or removed at the discretion of the physician.
Pricing Comparison
Pharmacies vs. Jase Case
| Medication | Target | Walmart | Walgreen | Jase Case |
| --- | --- | --- | --- | --- |
| Metronidazole 30-500mg Tablets | $31.00 | $27.00 | $34.00 | included |
| Azithromycin 6-250mg Tablets | $37.00 | $27.00 | $40.00 | included |
| Amoxicillin-Clavulanate 28-875/125mg Tablets | $70.00 | $80.00 | $106.00 | included |
| Ciprofloxacin 28-500mg Tablets | $40.00 | $58.00 | $41.00 | included |
| Doxycycline 120-100mg Capsule | $446.00 | $357.00 | $438.00 | included |
| Cost of virtual Doctors appointment | $79.00 | $79.00 | $79.00 | included |
| Total | $703.00 | $628.00 | $738.00 | $269.95 |
I live outside of a rural town where the only pharmacy often needs 24 hours notice to order prescriptions including antibiotics so we typically drive an hour to a larger town in order to prevent delays to starting medical treatments. I ordered a kit for myself and my children. I have medical conditions and medications which I take and Jase's doctor asked me questions to make sure that he prescribed meds which work for my situation. He told me that there was a possible interaction with one of the antibiotics and a medication that I've been taking for 20 years; I've been prescribed that antibiotic many times by my primary care doctor and never given that warning! My daughter and I have medication allergies and our prescriptions were filled by a different pharmacy than my son's. the packaging from the 2 pharmacies is a little different, but it was nice to know that orders which need something different than their standard pack are getting that special care. We will still see our primary care doctor, but it's nice to know that we have medication in the house and don't have to worry about whether the local pharmacy can get it. And I was impressed with the questions that the doctor asked me and their educating me about interactions which I should have been aware of years ago but no one else had mentioned.
I received my online consult within minutes of my order and the actual prescriptions arrived within a week. They even substituted one antibiotic I'm allergic to for another. I'm glad I was told about this to prepare for an instance where antibiotics may be hard to obtain.
Jase Medical is outstanding all around. Their process is uncomplicated, yet thorough in acquiring your personal medical history and needs. I have quite a few drug allergies but Jase was able to provide me with a medication package that is safe for me, and equally as complete as my husband's package. The medications provided are from good manufactures, that is something I must consider having allergies. They're labeled just as your drug store does and come with a booklet for your reference. The case is an added bonus for keeping them together and protected from light. We recommend this group to everyone, without hesitation!
Great customer service. Speedy responses to inquiries and of course the products and services are so needed in these uncertain times. So glad these medications are available and dispensed in a seamless and timely fashion.
I highly recommend Jase Medical. They are a dedicated group of professionals who assist people who are interested in being prepared in an uncertain world. They are very responsive to inquiries, polite and caring and I will continue to do business with them.
I want to thank everyone at Jase Medical for making emergency medicines available for so many in the case of an emergency. I surely never thought that it could be made possible in my lifetime to have an opportunity to have emergency meds alongside all my other emergency prepping needs… So again thank you Jase Medical helping us to be better prepared.
I'm so pleased with the professionalism and customer care this company gives. I feel blessed that someone saw this need and stepped up to make things happen. I look forward to you expanding medicines you can offer.
I received my purchase and I cannot thank you enough for offering this to us! What a blessing!
Thanks for making this available! We live in earthquake country here and in reading about the 89 earthquake I heard terrible stories about people being unable to get medical care. I am so glad to feel prepared.
Thank you for all that you are doing. I have been in a position of being unable to receive the life-saving antibiotics that I needed and becoming seriously ill. I never want to find myself in a similar situation again. Rest assured, I will be a willing ambassador for your mission.
As a preparedness practitioner, author and instructor I highly recommend JASE Medical and the team behind their products! The antibiotics prescribed cover a broad base of issues within a compact, packable kit and come complete with a guidebook and medical support you won't find anywhere else. Thanks, JASE for the great product and priceless peace of mind you've added to my level of preparedness.
Finally! Peace of mind. I never realized I needed this until I started thinking about what would happen without it. Great kit!
Getting this antibiotic supply was the last piece to complete my Emergency Preparedness Supply. Feels good!
I was really glad something like that was available for us, after how things have been going the last year and a half. Access to antibiotics is one thing that has made me nervous for emergencies. My husband and I both feel better having them just in case. The instruction booklet is very descriptive and helpful. I will definitely let others know it's an option.
Because of the pandemic, I really wanted to make sure I had my food storage, water storage and emergency supplies on hand and in good order. However, after going down the list of items needed in an emergency I realized that my family and I would be unprepared if our supply antibiotics were to be cut off. I purchased the emergency antibiotics kit from Jase and now feel peace of mind if and when something happens in the future. And the price was much lower than I thought!
I am super grateful for your company it helps ease a mother's fears that I'm now able to help my children and husband In an emergency If meds are ever needed. With all the uncertainty of the last year and half my fear is always if my family ever needs meds how can I help them. If the medical field is overwhelmed not seeing patients or lacking meds to help them, so this is God sent to me for sure and relieves quite a big of stress and anxiety. With all the shortages in the world medicine shortage is a real fear especially when you have a family to take care of with their health being a top priority especially in an emergency situation...Thanks for all your company does it is VERY much appreciated and needed!